Are you ready for an event that promises to captivate, inspire, and leave you with unforgettable memories? Look no further because we have the inside scoop on Unlimited Potentials' Trivia night that's set to give you the chance to win a prize while giving back to the community. In this blog post, we'll give you an exclusive sneak peek into what's in store, making sure you don't miss out on the excitement.
Prepare to be immersed in a world of awe-inspiring experiences! Trivia night aims to ignite conversations, foster connections, and inspire positive change for youth. Hold onto your seats as we reveal some of the event's most thrilling attractions. From fun games to great music, you will want to attend so you can press your luck at being the winning team at this Trivia night!
Mark your calendars for 7pm on Thursday, June 22nd, as this extraordinary event unfolds at Zurek Hall at St. Thomas Aquinas. To secure your spot and be part of this unparalleled experience, registration is required. It's $300 for a group of six players – $50 per additional player (max. 4 players). Click Here to sign up and reserve your spot before they are gone. Don't wait too long as spots are limited, and demand is high.
The countdown has begun, and the excitement is palpable. With an event of this magnitude on the horizon, it's time to mark your calendar, gather your friends, and prepare to be swept away by an extraordinary experience. Don't miss out on the chance to be part of something truly special.
Here is the link to the silent auction for tonight! Take a look at all of the cool prizes you can bid on to win: https://www.32auctions.com/UPTrivia2023.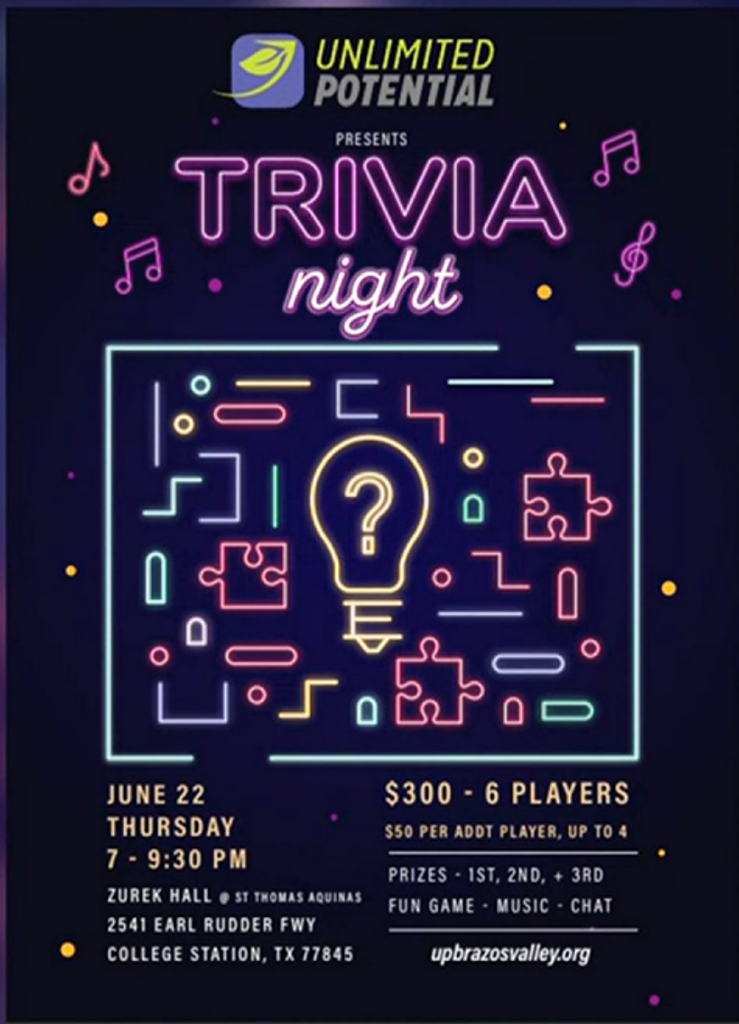 Get started with Unlimited Potential
See how Unlimited Potential can help you with your needs.